How to build a patio style pergola or sundeck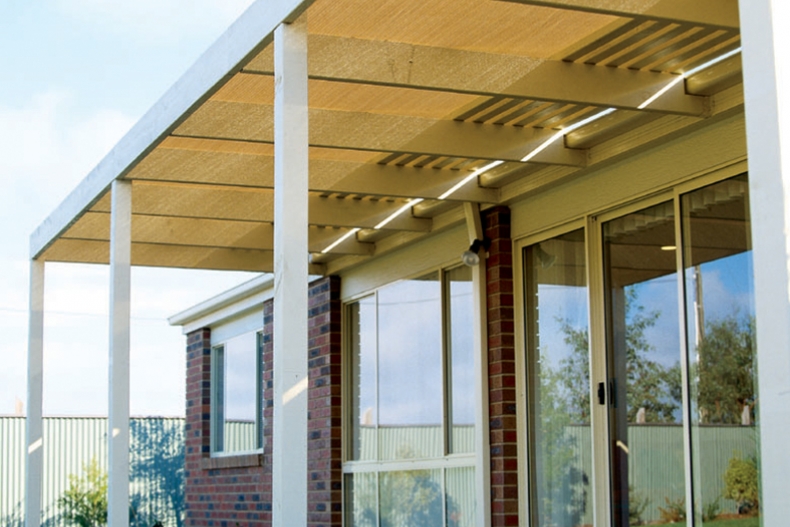 The perfect way to inexpensively extend your outdoor living area is to build a pergola or sundeck and cover it with Coolaroo outdoor fabric. Your new living area will provide welcome relief from the hot sun. Once you have built your structure, you can follow our guide to install your shade fabric.
The following project is based on a standard 4.5 m x 3.6 m (14'10" x 11'10") Pergola/Sundeck with one side fixed to an existing structure.
Materials Required
Finished size – approx. 4.5 m x 3.6 m (14'10" x 11'10")
1 x 4.5 m x 250 mm x 50 mm (14'10" x 10" x 2") F.7 Beam
2 x 2.7 m x 100 mm x 100 mm (8'll" x 4" x 4") F.7 Posts – Height will depend on Height to Fascia
6 x 3.6 m x 150 mm x 50 mm (11'10" x 6" x 2") F.7 Joists
2 x 0.9 m x 75 mm x 50 mm (35" x 3" x 2") Kneebone Braces
1 x 4.5 m x 38 mm x 38 mm (14'10" x 1/2" x 1 1/2") F.7 Batten
Pre-Mixed Concrete
Post Support Stirrups
Galvanised Nails and Coach Bolts
Joist Saddles
Instructions
Before you get started, remember that your building plans should be approved by your local council.
Once you have selected your site, mark out the area with pegs and string lines (Figure 1). Stake out each post hole.
Use galvanised steel post support stirrups to elevate posts away from ground moisture. Prepare 350mm x 350mm x 600mm (14" x 14" x 24") deep holes (based on stable soil conditions) and fill each with pre-mixed concrete (Figure 2). Simply push the steel support into the wet concrete. Allow to set and fix posts into position. As the structure is not yet fixed to the house, use temporary bracing to hold posts in position.
Bolt the beam to the check outs in the posts. Using the joist saddles, fix the joists between the fascia board and the beam (Figure 3).
Allowing no more than 900mm (35") between each joist fix each joist using joist saddles (Figure 4).
Fit the 0.9m x 75mm x 50mm (35" x 3" x 2") kneebone bracing at 45° angle. Fix batten along top of joists closest to the guttering (Figure 5).
Using the detailed installation instructions, fix Coolaroo outdoor fabric into position and secure.
Once you have built your structure, it's time to install your shade fabric.
Follow our handy guide, DIY Guide: How to install shade fabric