DIY Guide: How to install shade fabric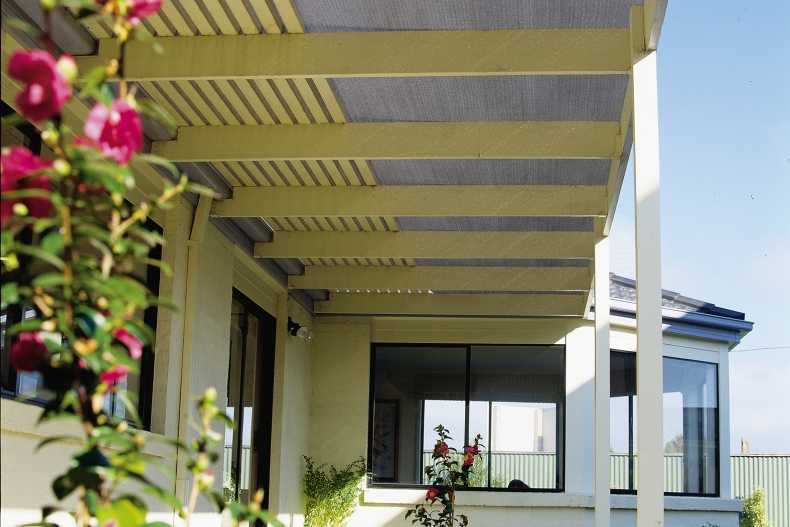 Installing your new Coolaroo outdoor fabric is as easy as following these 8 simple steps.
Getting Started
This handy guide will help you install your Coolaroo Shade Cloth Fabric onto a structure. If you need help on building a structure for your Shade Fabric, then you should check out this handy guide: How to Build a Patio Style Pergola or Sundeck.
Before you start you'll need the following tools:
A hammer
Tape measure
Safety goggles
Coolaroo fabric cutter
Coolaroo installation accessories
Instructions
Roll out the Coolaroo fabric across your structure and loosely pull it into position, leaving about 300mm (12") overhang all around.
Fix one of the longer edges first, or the edge closest to your house. Start at one end, applying medium tension as you move along.
Now fix one of the shorter edges, then another long edge, and finish by fixing the other short edge.
Make sure the knitted lines in Coolaroo fabric are straight.
Remember to fix the Coolaroo fabric slightly in from the edge of each beam or post.
Fix to any middle or intermediate supports last.
Now, neatly trim off all the edges, using the Coolaroo cutter.
For wide spans that require joining two rolls edge-wise, try not to overlap the cloth if possible. Join them together across the beam and fix every 450mm (18").
Congratulations! Now with your shade fabric installed, you can enjoy your outdoor space. Stand back and admire your handiwork.
If you have any excess shade cloth, don't throw them in the trash! Read our guide on 6 Unexpected Uses for Shadecloth and you just might find your next little DIY project.