How to make an exterior window shade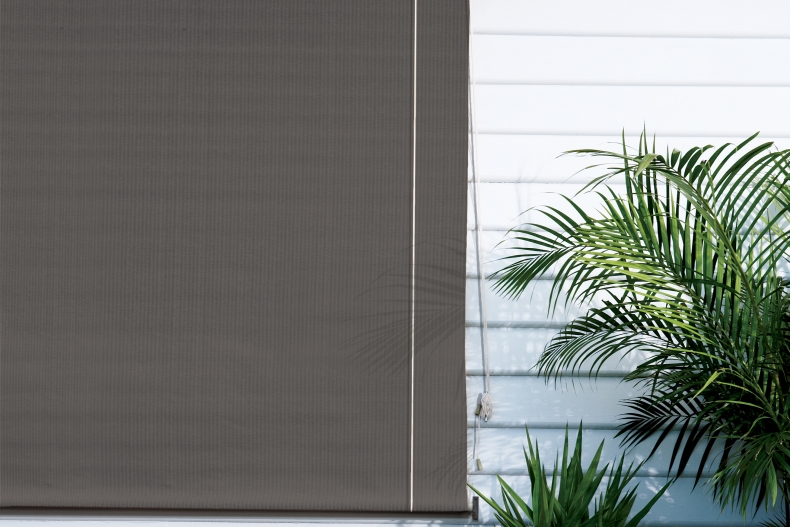 At last an Exterior Window Shade that will not only do a great job to help cool your house, but will do it for years and years without the material cracking or discolouring. The following example is based on a 1.83m (6') x 1.83m (6') square blind.
Materials Required:
12 metres (39'4") Venetian Blind Cord
2 x Pulleys
1 x Horn Cleat

In addition, you will need:
25mm (1") Beading x 1.83m (6') long
25mm (1") Dowel x 1.83m (6') long
4 x Metal Self Tapping Screws
Instructions:
Cut the Coolaroo shade cloth to size. Allow an extra 20cm (8") in length. Note: Coolaroo shade cloth fabric is made to a standard 1.83m (6') width.

By hand or machine, sew either end of the Coolaroo shade cloth. The hem should be at least 4cm (1-5/8") deep.

Insert the 25mm (1") beading at one end of the Coolaroo shade cloth to form the head rail. Now insert the 25mm (1") dowel in the bottom end. NOTE: To prevent the dowel rod working loose, either staple or tack through the shade cloth at either end of the base rail.

Using the self tapping screws, fix pulleys 6cm (2-1/3") in from either end of the head rail. Lay the blind flat on the ground.

Now, tie off one end of the blind cord to the pulley on the right. Run the cord down the back of the blind, under the dowel, back up to the pulley. Thread cord through the right pulley and run it across to the left side pulley. Pass a generous 'loop' through the left pulley then run the loose single cord under the dowel and up the reverse side of the blind. Tie off neatly to the left pulley.

Drill two small holes at either end of the head rail and fix blind to window frame / pergola etc.

Fix horn cleat halfway down window frame to tie off your Coolaroo shade cloth roll up blind.
For more information, check out our article on installing shade fabric.