Using shade cloth in the great outdoors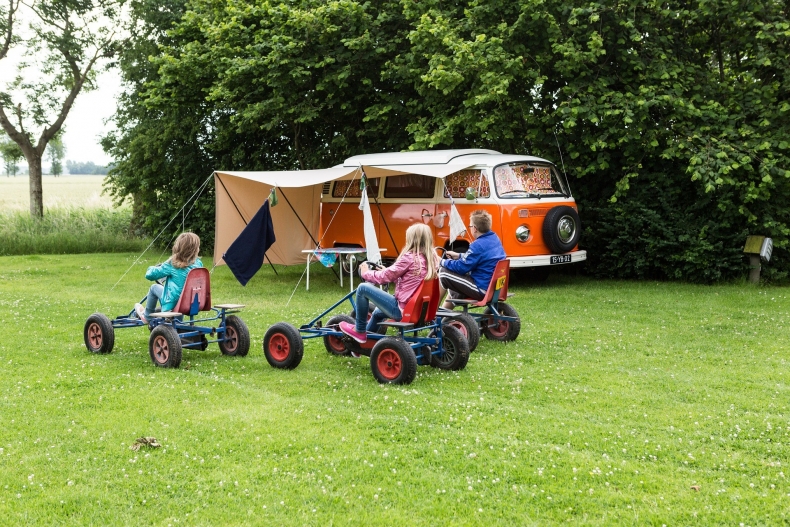 With durability, weather resistant design and easy maintenance, shade cloth is perfectly suited to a wide range of applications – including some unexpected uses that go well beyond the backyard.
Of course, there are the traditional uses around the home. Shade cloth is always ideal for offering shade for the garden or patio, protecting the garden bed against birds and other animals, screening from wind and more.
But shade cloth can be just as useful outside of the home environment. Whether you're camping in the bush, spending time at the beach, or on the move travelling around the country, shade cloth can be very handy for the great outdoors.
Using shade cloth while camping.
As a ground sheet at the campsite.
Shade cloth is a good option for high-traffic campsite areas. If you're sitting around a table with some camping chairs, consider laying a sheet of shade cloth beneath your entire setup. Or, as a ground mat beneath a communal marquee.
This will help prevent grass or shrubs being stripped off the surface of the turf around your site, and stop the area from becoming overly muddy or dusty.
The undulating texture of the woven fabric can also help provide grip and prevent any slip ups when it is raining.
As a 'door mat' for your tent or caravan.
Similarly, cut a strip of cloth and position it at the doorway of your tent or caravan to create a DIY cleaning mat for debris. Secure the mat to the ground using tent pegs.
Whenever you exit or enter, brush your feet back and forth against the texture of the fabric. The knitted construction is coarse enough to remove sand and dirt from feet, leaving the particles to drop through the gaps in the weave.
As an underlay for your tent.
Alternatively, combine these two uses and place a larger sheet of shade cloth beneath your tent, extending out from the door.
Shade cloth allows water to pass through and also provides an extra layer to protect your tent from damage caused by roughage on the ground. Remove the risk of rips or tears with a durable layer of protective shade cloth.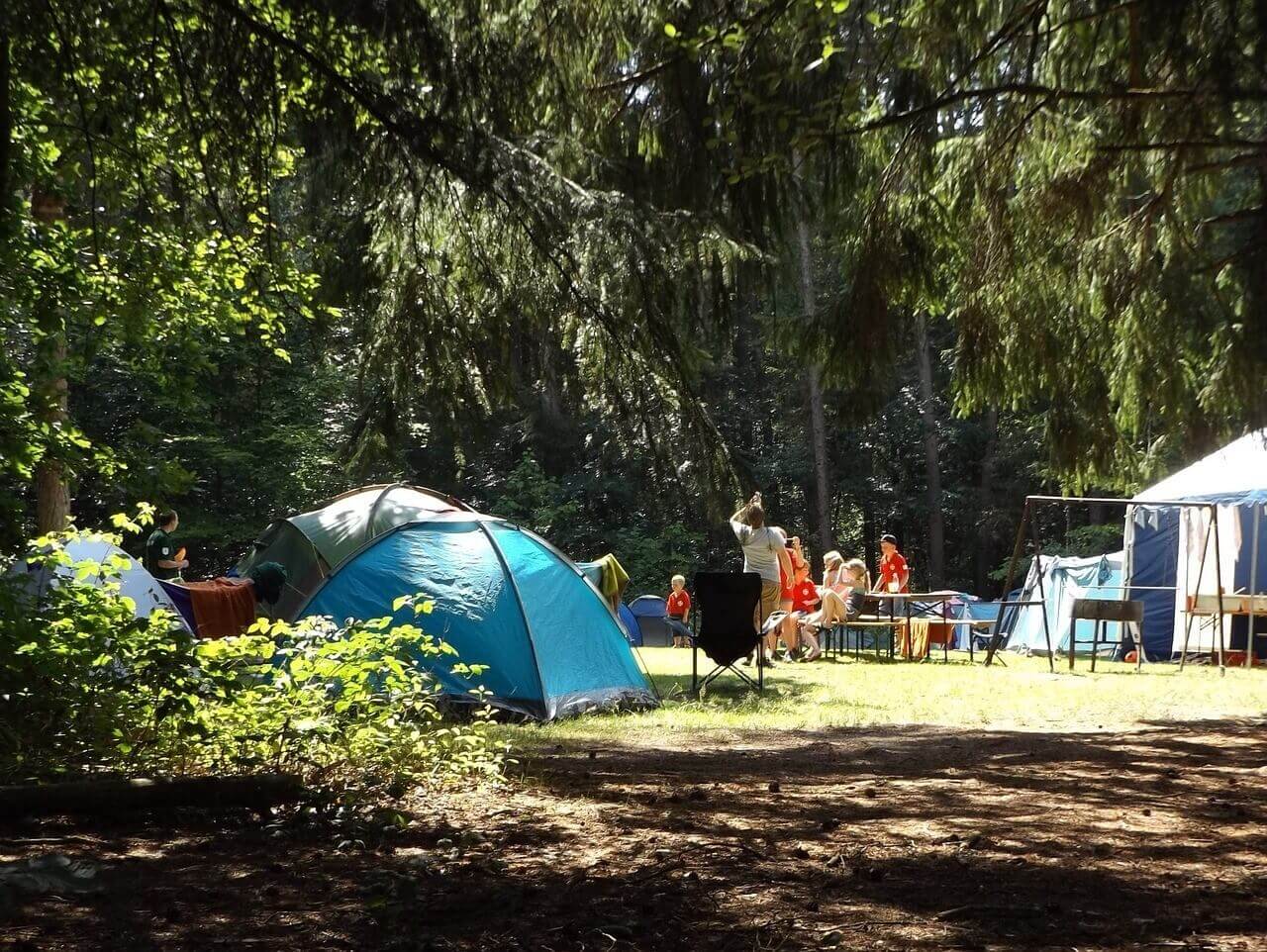 Using shade cloth on the coast.
As a boat cover for storage and protection.
For any long term periods where you may not be using a boat, it's important to protect the vessel against potential damage from the sun.
Prolonged exposure to UV can be harmful for fibreglass and vinyl, two materials that are commonly used in the design and construction of all kinds of boats.
With up to 90% UV protection factor, shade cloth can offer comprehensive protection from the elements. The knitted fabric can be easily connected using tie wraps, with added clamps, butterfly clips or ropes to pull the material tight to the body.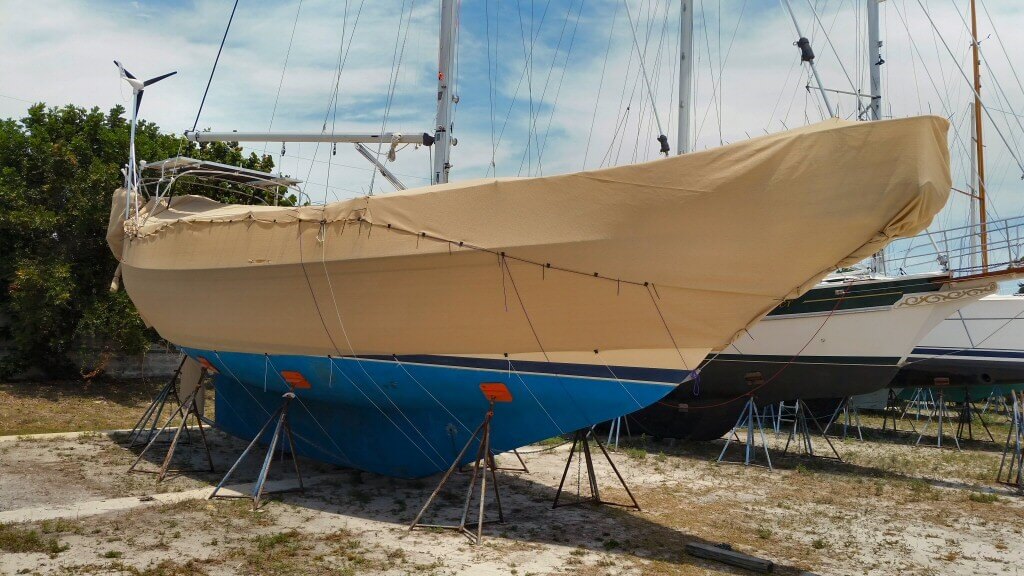 An example of a boat cover made with Coolaroo shade cloth. This cover survived the recent Hurricane Matthew, remaining unscathed. Image courtesy of Hayden Cochran 2016, all rights reserved. Read about how Hayden and his team created this boat cover
here
.
As a wind break on the shore.
If you're spending time on the shore, you can create an easy and effective windbreak to guard against the inconvenience of wind or sand.
Stretch a length of shade cloth between some poles, garden stakes or thin pieces of wood and secure it in place with either tie wraps or timber fasteners.
Then, simply prop the structure up by inserting the poles/stakes in the sand and you're ready to go.
Using shade cloth on the go.
As an extended caravan awning or privacy screen.
Many caravans feature foldable awnings over their doorways to create an easy, informal communal space.
With a sheet of shade cloth and some accessories, you can extend the existing awning to create a more protected, personal and private enclosure at the entrance of your vehicle/camper.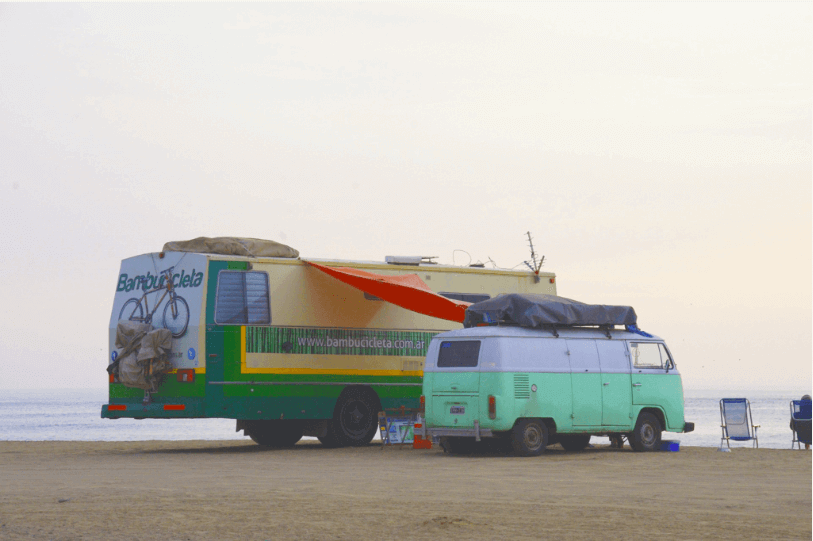 Wrapping up.
Shade cloth can be used for so much more than permanent-installation shade protection.
With durability, high UV block factor, and flexible, easy-to-transport design, it's a great solution for an outdoor lifestyle — in the backyard and beyond.