Stay sun smart with a shade sail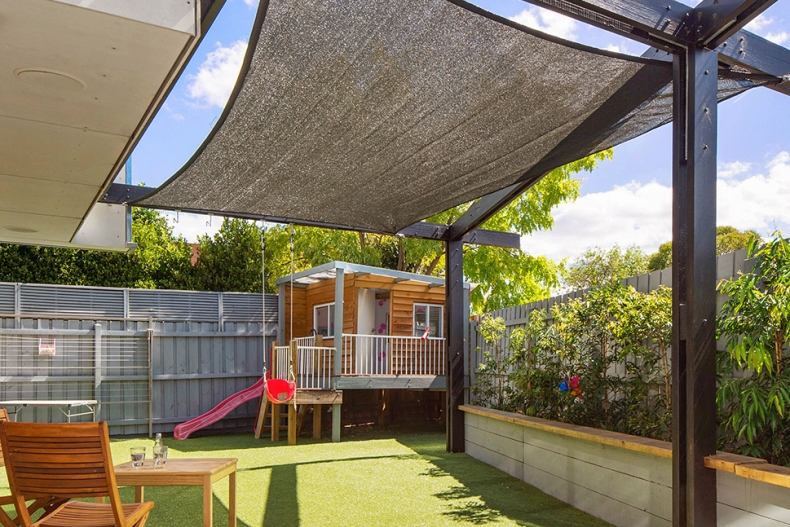 Staying safe during summer doesn't need to be a challenge. While shade can come in various forms, shade sails offer optimal sun protection and style to your backyard.
Finding a balance of sun and shade.
Everyone loves an Aussie summer. It's an opportunity to head to the beach, lounge by a balmy poolside and begin outdoor entertaining with friends. However, no one enjoys the skin damage that can come from inadequate protection.
Sunburn is just a symptom of the damage that can occur to your skin in even the mildest of weather conditions. Sun Smart Australia offers some important safety information to consider when heading outdoors during summer:
'Exposure to ultraviolet (UV) radiation from the sun is the major cause of skin cancer. In some countries, the UV radiation is strong enough to cause sunburn in just 11 minutes on a fine summers day. To prevent sun damage, we recommend following the Sun Smart steps: slip on clothing, slop on sunscreen, slap on a hat, slide on sunglasses and seek shade.'

Diagram courtesy of Sun Smart Australia.
As illustrated above, UVR can penetrate clouds and other objects that cast shadow. It can also reflect off surfaces such as snow and sand. Therefore, it is important to protect yourself adequately, and with the knowledge that you are never 100% covered.
Before heading out, check the UV Index so that you're better informed.
Don't forget to slip, slop, slap and seek.
We provide information on cover factor and fabric strength on each of our product pages. Each product has a noted cover factor and warranty against UV degradation that can help you choose the shade sail that works for your shade requirements.
Shade sails are only one way you can stay safe during summer. It's important to use as many tactics as possible to ensure that you and your family are protected from harmful UV rays.
For more information on some of the ways you can stay protected, visit the SunSmart website to learn more.
If you'd like to learn more about Coolaroo's products and their level of protection from the sun, don't hesitate to get in touch with our team today.