How to clean your shade sail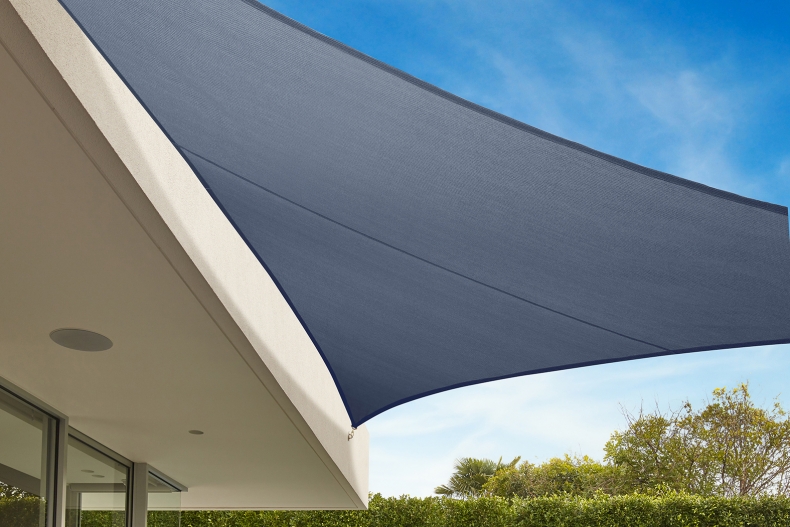 Is your shade sail looking a little worse for wear? This article shows you how to clean and maintain your shade sail — and keep it looking fantastic all year round.
Keeping your shade stylish.
Shade sails can be cleaned with mild detergent and water. The detergent must not contain any acidic chemicals as this can weaken the fabric's resistance against UV light, and its ability to provide safe shade for you and your family.
DO NOT put the fabric in your washing machine, clothes drier, or scrub it with a stiff brush, scouring pad, or an abrasive cleaner.
You can apply detergent using a long soft bristled mop or brush and rinse with a strong flow of fresh water from your backyard hose.
If your shade sail needs a more comprehensive clean, follow the instructions below when using a high pressure water cleaner:
Choose to wash your shade sail on a sunny day
it's important that the material has a chance to fully dry after being cleaned.
Remove the shade sail and lay flat on a smooth, clean surface.
Use a high pressure water cleaner at a safe distance away from the fabric.
We recommend working along the fabric in sections, so you cover the shade sail in its entirety.
Re-installing your shade sail is a good time to check fabrics tension. Use a Coolaroo tensioning strap to remove creases or sag from the sail when refitting the fixing accessories and chain.
Refer to our shade sail installation guide for more information.
If you are still unsure about the best way to clean your shade sail, get in touch with the Coolaroo team today.