How do I care for my Coolaroo shade cloth or portable shade?
Example answer (if prepared additional DIY Hub guides):
Care instructions for each product can be found on their relevant product page, however if this is not available please refer to one of the links below:
To care for your Coolaroo shade cloth, please refer to our DIY Hub for instructions.
To care for your portable Coolaroo shade, please refer to our DIY Hub for instructions.
How do I install my Coolaroo product?
Installing a Coolaroo product is simple. Installation guides can be downloaded as a PDF from each specific product page. Product pages can be accessed from the main navigation of the Coolaroo site.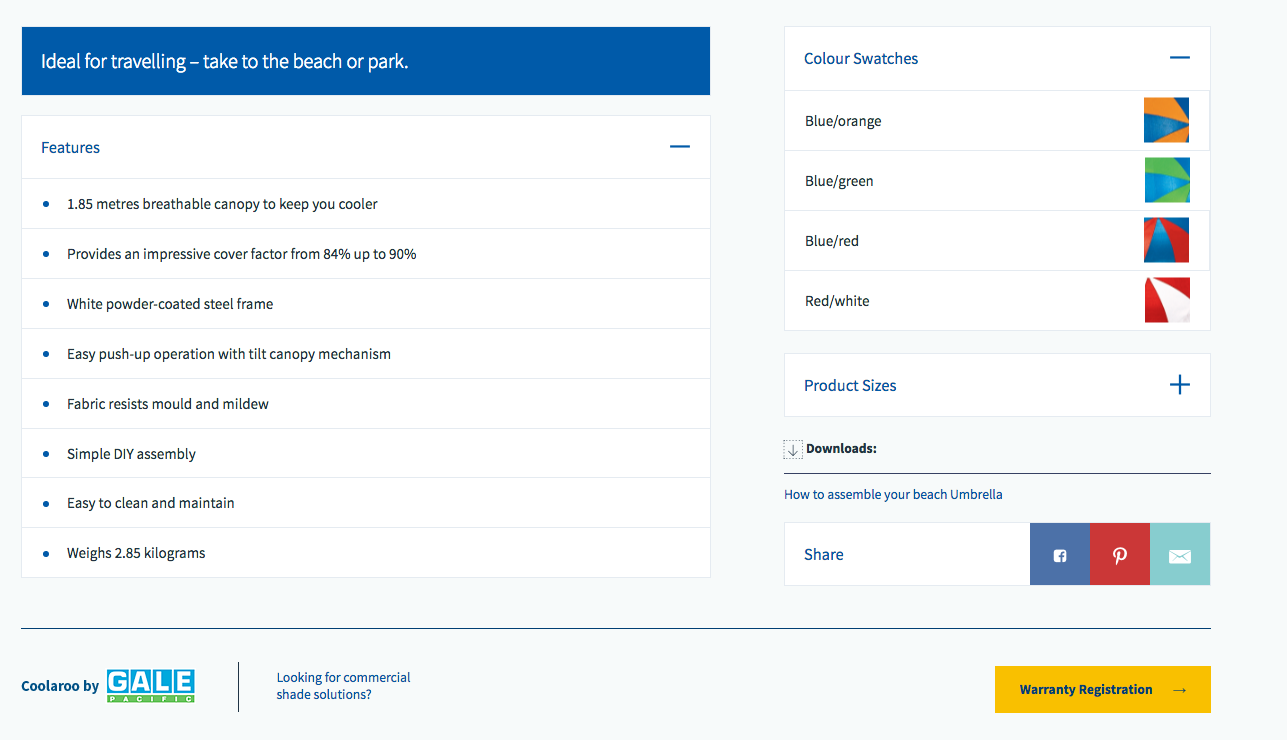 The image above is taken from the product page of the Coolaroo Beach Umbrella. PDF's are accessible from the 'Downloads' tab. You can also search for products using our website search tool.
For additional steps or video guides to installing a Coolaroo product, we have many handy resources in our DIY Hub. This section of the site contains installation guides and instructions for users.
How do I connect a shade sail to a fascia?
When attaching a shade sail to your fascia it is important to secure your fascia using a Fascia Support - available through your hardware retailer. This will reduce the amount of force directly on your fascia board and protect the fascia from pulling from its' position. See our installation instructions for more details.
Which side should the coating side face up or down in the Weather Proof shade cloth?
Weather Proof (coated/shiny side) should face to the sky.
When installing Weather Proof shade cloth it is important that it is installed on a 20 degree angle to ensure adequate water run-off.
Which way does the seam face on a shade sail?
Seam should face towards the ground.
What glue do I use to stick down my synthetic turf to a concrete surface?
Use a non-acidic or alkaline glue that will bond with the rubber backing.
How do I register my warranty?
To register for your product warranty, fill out the registration form online.
Please retain your product receipt for proof of purchase.
Where can I find Coolaroo products?
What are the specifications of my Coolaroo product?
All product specifications can be found by visiting the relevant product page on the Coolaroo site. Each product page contains product size, product features and colour swatches.
Product pages also include information on the length of warranty and cover factor (where applicable).
Are Coolaroo products safe for pets?
Our Coolaroo synthetic turf is completely pet-friendly and is suitable for domestic use in your home.
Will the Weedmat allow water to flow through?
No. The Weedmat cannot be left uncovered as it does not have any UV protection.
What is the wind rating on the Market Umbrella?
The Market Umbrella is not supposed to be a permanent structure so there is no tested wind rating on this product.
Is Coolaroo synthetic turf toxic?
Our synthetic turf has been independently tested by REACH and has passed the safety standards. As long as the product is used as it is intended then the product meets these safety standards. Coolaroo synthetic turf is also safe for pets.
Does Coolaroo have a waterproof shade cloth?
Coolaroo produce a Weather Proof shade cloth for use where resistance to rain is required. Due to fixing mechanisms and potential water pooling, it cannot be classifed as absolutley 'waterproof'. Coolaroo Weather Proof shade cloth s available in three colours and is water, mould and mildew resistant.
When installing Weather Proof shade cloth it is important that it is installed on a 20 degree angle to ensure adequate water run-off.
Does the synthetic grass come in any other width than 1.83Mtr?
All the full roll sizes are 1.83Mtr wide. There are pre-packaged sizes of synthetic grass available, which are 1Mtr x 4Mtr.
Do we make to measure shade sails?
We currently do not offer this service.
Where can I get a replacement product?
Contact us for any questions regarding replacement products.
If you have purchased the product from Coolaroo USA, please contact them via this link.
Can I get a replacement canopy for my umbrella?
Unfortunately there are no replacement covers for any of the Coolaroo umbrella ranges.