How to install the Butterfly Gazebo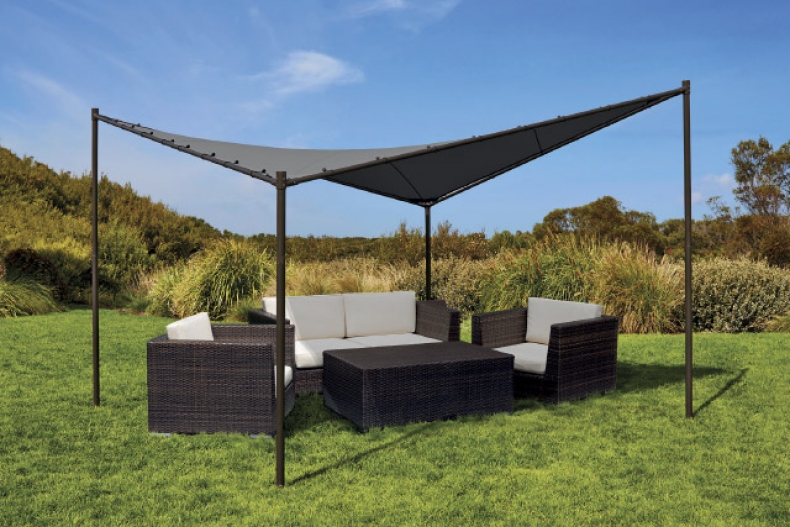 Create a sanctuary in your backyard with the Butterfly Gazebo. Learn how to install it with our handy guide.
The gazebo is strong and durable with an all-weather cover. It's also semi-permanent, meaning you can leave it up all summer long.
The contemporary design is modern and elegant, giving your outdoor space a relaxed resort feel.
You can learn how to install it by reading on or by downloading the PDF.
Materials in box:
Upper corner poles x2
Cover poles x4
Lower leg poles x4
Feet x4
Common pole x8
Common bolts x16
Centre pole x4
Leg bolts with plastic caps x4
Lower leg pole bolts with plastic caps x4
Elastic bobbles
Feet bolts x12
Spanner 1 (for lower leg pole bolts)
Spanner 2 (for upper corner pole bolts)
Turnbuckles
Canopy
Instructions:
Measure a 4 x 4m square in the position you want the gazebo, mark the four corners with chalk or tape. Ensure the pole feet are placed on these markings with even spacing between poles to provide a sound structure.
Connect the common poles using centre poles.
Connect the common poles into upper corner poles. Using spanner provided, secure with common bolts.
Attach the feet into lower leg poles using bolts and tool.
Unfold the canopy.
Insert the four cover poles along the edges of the canopy. Connect corners of the canopy to the corners of the frame with the turnbuckles.
Secure the edges of canopy to frame with elastic bobbles. Tighten the turnbuckles by rotating.
Lift the assembled upper section of the gazebo and insert the lower leg poles into the upper corner poles. Secure the connection with bolts and plastic caps.
Once erect, ensure the Butterfly gazebo is firmly secured to a stable surface, you can use feet bolts if desired.
Care and Maintenance:
When not in use for long periods of time dismantle the gazebo, and store in a dry place.
If the canopy is wet, allow to dry naturally opened up before storing. If necessary, clean the fabric with a hose.
Components subject to turning and sliding can be treated with a non-staining lubricant spray (silicon-based).
Related Articles