How to use the Multibrella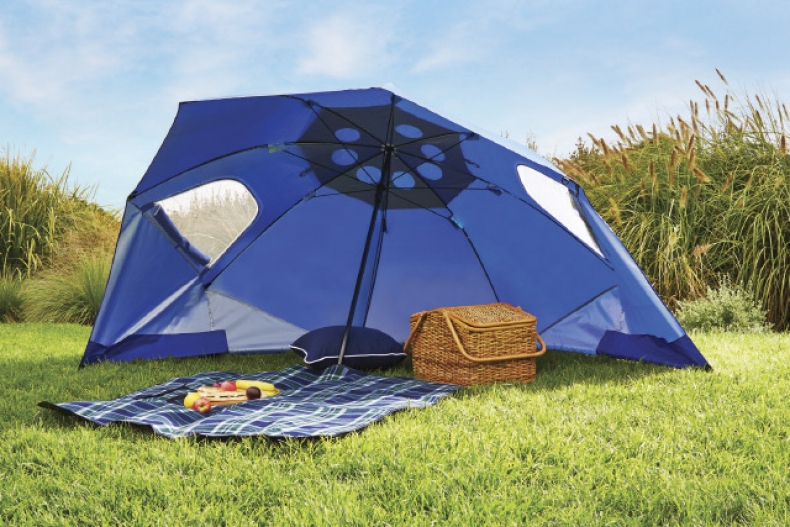 A versatile solution when you want full cover or partial shade – our Multibrella is brilliant for the beach or park. Learn how to install it here.
Simply pack and go with the Multibrella. It's quick and easy to set up and dismantle, and gives you shelter from the sun's harsh rays.
Best of all, it offers generous shade so you can keep your cool on those hot summer days.
Learn how to install the Multibrella by reading on, or downloading the PDF.
Materials in box:
Canopy
Individual pegs x4
Roped pegs x4
Instructions:
To open the umbrella, push the canopy up until it locks into position.
To extended the pole twist the camp at the base. Twist again once extended to lock pole into position.
Unzip side flaps for extra shade. Secure side flaps with pegs provided. Also attach roped pegs to canopy clips if required for added stability. When using side flaps ensure the pole is not extended.
Unzip windows to allow light in. Roll fabric and secure with tie.
To close the umbrella, press the red button and pull the umbrella down.
Care and Maintenance:
When not in use, close the umbrella, place a protective cover over it and store in a dry place.
If canopy is wet, allow to dry naturally opened up before storing. If necessary, clean the fabric with a hose.
Components subject to turning and sliding can be treated with a non-staining lubricant spray (silicon-based).
Store in a dry place when not in use.