How to use the Market Umbrella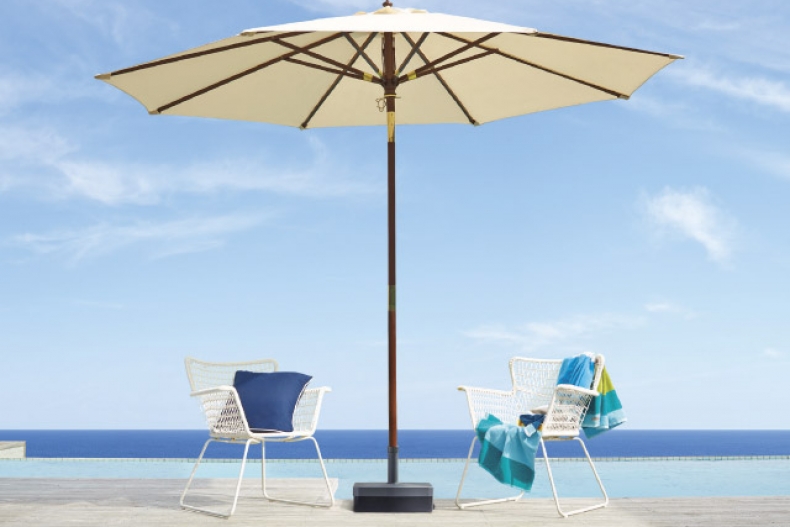 Sit back and relax in the shade of our Myrtle 3.3-metre Round Market Umbrella. Learn how to install it here.
The Market Umbrella: It offers you 100% cover factor, making it perfect for those hot summer days. The timber frame is environmentally sustainable and stylish while the waterproof canopy fabric provides all weather protection.
The easy DIY assembly gives you a quality solution that's practical and functional. Learn how to install the Market Umbrella by reading on, or downloading the PDF.
Materials in box:
Umbrella frame with canopy x1
Lower pole x1
Finial x1
Instructions:
Screw the finial into the pre-drilled hole at the top of the canopy. Ensure finial is secure, do not overtighten.
To assemble the umbrella, screw the top pole into the bottom pole until secure.
To open the umbrella, pull the cord down until the canopy is up past the pin hole, place the stop pin into the desired hole to hold the umbrella in place.
To close the umbrella, remove the stop pin and lower the canopy down, making sure you keep hold of the pulley cord whilst doing so.
You can tilt the umbrella by pressing the tilt button. Hold onto the top section of the pole as you do this.
Care and Maintenance:
When not in use, close the umbrella, place a protective cover over it and store in a dry place.
If canopy is wet, allow to dry naturally opened up before storing. If necessary, clean the fabric with a hose.
Components subject to turning and sliding can be treated with a non-staining lubricant spray (silicon-based).
Store in a dry place when not in use.