How to use the Banksia Cantilever Umbrella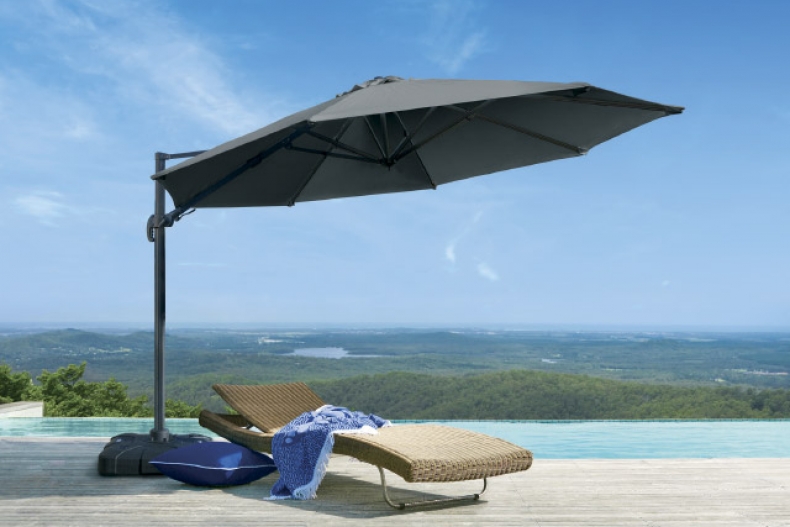 The Banksia 3.5m Cantilever Umbrella lends a contemporary style to any outdoor living space. Learn how to install it using our handy guide.
With 100% cover factor protection offering generous shade and fade-resistant fabric, the Banksia umbrella is great addition to your outdoor space.
The secret is the Xceltex™ fabric canopy, which has you covered come rain or shine.
The Banksia is packed with features so you can relax in comfort. To learn how to use the umbrella, read on or download the PDF.
Materials in box:
Box One
Lower Pole x1
360 degree Swivel system x1
Screws x4 (M8 x 15)
Screws x4 (M8 x 25)
Washer x 8
Umbrella frame and canopy x1
Crank handle x1
Screw with plastic cap x1
Plastic cover x1
Plastic cone x1
Allen key x1
Umbrella cover x1
Stay pole x1
Box Two
Fillable base and metal cross base x1
Base wheels x4
Instructions:
Check that cross base pieces are secured to the under side of base. Attach wheels to the underside.
Using screws and washers fix the 360° swivel system onto the fillable base. Then fix the lower pole to the 360° swivel system using screws and remaining 4 washers.
Place the plastic cone over the lower pole & position over 360° swivel system.
Place the plastic cover on the bottom of the umbrella frame pole as shown.
Place the umbrella frame pole onto the lower pole. Push plastic cover down to sit neatly on plastic cone. Secure poles together using the screw with plastic cap.
Using the easy glide handle, push in an upwards direction towards the top of the umbrella pole until it locks into the lowest position.
Open the umbrella by inserting and rotating the crank handle.
Adjust the vertical angle of the umbrella, by sliding the easy glide handle up the pole and locking into desired position.
The umbrella can be rotated 360° by stepping on the foot pedal on the base.
To tilt the canopy horizontally, release the lever, then rotate to the left or right and lock into position at desired angle.
Care and Materials:
When not in use, close the umbrella, place a protective cover over it and store in a dry place.
If the canopy is wet, allow to dry naturally opened up before storing.
If necessary, clean the fabric with a hose.
Components subject to turning and sliding can be treated with a non-staining lubricant spray (silicon-based).